Partners and networks
Palais de Rumine

This emblematic building of Lausanne, in Florentine style, was inaugurated in 1906. It was built thanks to a donation from Gabriel de Rumine, a Russian prince who lived in Lausanne, his adopted city. It has always been dedicated to culture, science and the public, according to the donor's wishes. For a century, it has hosted the University, the Vaud Parliament and events of international importance such as the official inauguration of the Simplon tunnel in 1906 or the signing of the Treaty of Lausanne in the Aula auditorium in 1923.
Today, the Palais houses three Cantonal Museums - Archaeology and History, Geology and Zoology - as well as the Bibliothèque cantonale et universitaire - Lausanne (Cantonal and University Library). Three rooms are used for a wide variety of events throughout the year: the Senat room, the Aula and the Narbel auditoriums. The Grandes salles d'exposition (large exhibition rooms) of the former Musée cantonal des Beaux-Arts (Cantonal Museum of Fine Arts) have been used since 2020 for large temporary exhibitions of science and history.
Iron Age Europe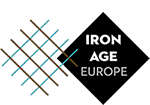 Established in 2011, the Iron Age Europe network brings together establishments that each have a strong link with at least one emblematic archaeological site of the period, either through the management and opening to the public or through conserving a large part of the collections and scientific archives.
The network aims to promote protohistoric European archeology, it aims to pool the logistical resources and scientific skills of its members, with the view to strengthen partnerships of all kinds (exhibitions, publications, conservation, cultural mediation).
World Heritage Experience Switzerland

"World Heritage Experience Switzerland" (WHES) is the umbrella organisation for the tourist network of UNESCO World Heritage properties in Switzerland. World heritage goes back to a revolutionary idea: that the protection and preservation of extraordinary cultural achievements and unique natural phenomena should be placed in the hands of the whole human race.
World Heritage properties are places of contemplation, discovery, amazement, experience, learning and exchange. The great significance of these places and the fascination and admiration that they inspire cast a spell on those who visit them. They banish the everyday and take us on a journey through time. As living witnesses to a vibrant history, they demand answers to questions such as: What does our heritage encompass? How do we live with this heritage, and how do we pass it on to future generations?
Patrimoine antique vaudois

The Canton of Vaud is rich in archaeological remains from all periods, particularly Roman. A dedicated map gives routes to follow on foot or by bike, to discover the towns (colonies and vici) and rural settlements (villae) inhabited by the Gallo-Romans and highlighted by seven Museums. Roman quarries, older remains such as standing stones and medieval ruins can also be visited.